How To Be A Stay At Home Mom – Balance Work Life & Family Life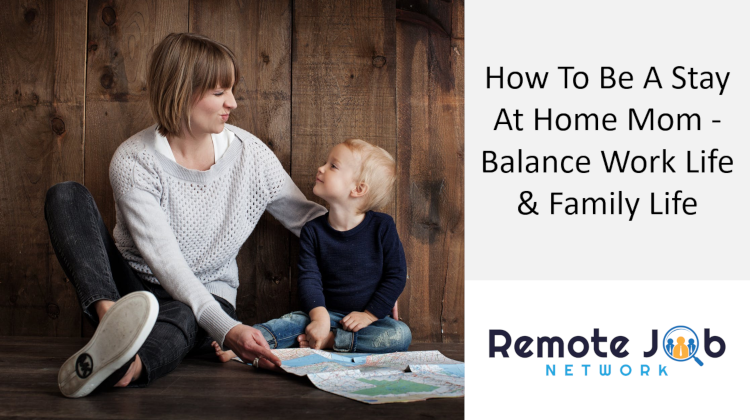 Trying to figure out how to be a stay at home mom and also balance work life and family life can seem like an overwhelming task. Believe me I know from experience. Most of the time you may feel like you are burning the candle on both ends. I use to feel this way on a regular basis.  Even though balancing your work-time and your family-time may seem daunting, it is not impossible and it can be done.  You just need to get a little creative with time management. The following are a few of my personal tips and tricks I use to balance my family and work life. I hope my fellow work at home moms find them useful!
Following my how to be a stay at home mom tips below will help you to balance work life and family life:
Work during family down time

Many times as a stay at home mom, you may have the option to work flexible hours. If you do have that option, be sure to use it to your advantage.  If you can handle some  of your work tasks during odd hours, do so. It will free up more time for your family when they are up, home, and need you.  Are you a morning person? If you are, take advantage of some quiet time and get up an hour or so before your family to handle some of your work tasks. Are you a night owl? If yes, take care of some of your tasks after putting your children down for bed.

Work while you wait for your children

As a mom, it seems like I spend a lot of my time waiting. Do you drop off / pick your children up from school? You can also use that time to your advantage. At one time, I had two children in two separate schools. That meant waiting in two separate car drop off / pick up lines, sometimes for 20 minutes or longer twice a day. That's a minimum of 1.5 hours of waiting in school car lines every day! I finally got smart and realized I could use that time wisely. I was able to use this time to answer emails and return phone calls. I then gained this time back to spend with my family.

Do you spend lots of time waiting for your children at sports practice, music lessons, or any other extra curricular activity? If yes, use this time wisely also. If you have a laptop you work from, carry it with you. Most of us have cell phones nowadays. You can get online using your laptop anywhere that you have cell service, by turning on your phone's hot spot and then connecting to it through your laptop's wireless connection. I've gained so much time back by working while I'm sitting in the car waiting on my children to wrap up their various activities.

Plan meals ahead of time

During the week with homework, sports, and other extra-curricular activities, schedules can often be the busiest. During these times try to plan speedy dinners. Plan your meals for the following week during the weekend before. You can even meal prep and prepare dinners in advance, freeze them, and then cook them when ready. Some of my favorite meals are prepared using a crock pot. I love the fact that I can just place items in it and forget it for a while.

Get your family involved

Another thing you can do is get your family involved. If you own a side business, you can also blend family time and work by getting your children involved, where appropriate. Younger children are fully capable of attaching stamps or mailing labels. Older children can help with basic marketing activities like hanging flyers. Teenagers can even take on some light administrative tasks such as data entry, and social media posting. Pay them a few dollars to help you out.

Don't procrastinate

There's nothing worse than having several weeks to work on a project and then waiting until the last minute to get started on it. If you have a tight deadline coming up explain to your family that you need to be able to get your work done. Then offer your children a reward, like a pizza and movie night, if they let you get your tasks done undisturbed.
Regardless of what's going on with work, try to always set aside a few moments a day to spend time with your family. It doesn't have to be anything special. Talk for a minute. Read a book. Play a game. Go out for ice cream. The point is to let your children know that they are important and come first. Children grow up so fast. I learned this one the hard way too.  If you are like me, you became a stay at home mom so you could spend more time with your family. Don't lose sight of that.
What are some creative ways you have come up with to balance work life and home life?
We hope you found our How To Be A Stay At Home Mom – Balance Work Life & Family Life article beneficial in your work from home job search!
Good luck and happy non-commuting!
To find a work from home job, view our Remote Jobs page. To be the first to hear about great work at home opportunities, like our Facebook page.
PLEASE SHARE this post! Be a pal. Help your friends that may be looking for remote jobs too.
---